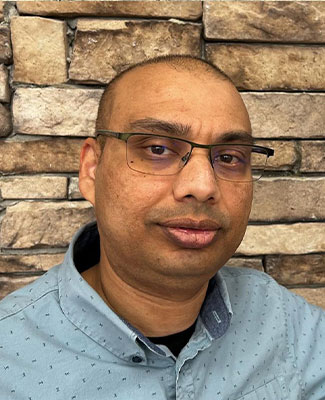 Shanmugam Sivasankaran
PT MPT
Shan is a passionate and experienced senior Physiotherapist. He has over two decades of experience in management of Musculoskeletal conditions including Orthopedic and sports injuries.
Shan is well known for his thorough assessment and supportive demeanor utilizing a multi-modal approach to treatment including patient education, manual mobilization, soft tissue work, dry needling and exercise prescription.
Shan has a Master's degree in Physiotherapy focused in Musculoskeletal and sports conditions.
Shan is an avid learner continually learning from experience and through education / Certifications. He believes that continued learning helps in providing well-rounded care to his clients. Client empowerment and advocacy are his core strengths.
Shan is certified in –
Dry needling
Pelvic Health
Kinetic Link Therapy
Bradcliff Breathing Method for Breathing Pattern Disorders
BonefitTM from Osteoporosis Canada
GLA:D Hip and Knee and GLA:D Back
Pulmonary Rehabilitation: University of Toronto
Movement system impairment in treatment of Lumbar spine and Advanced Upper extremity: University of Washington
PGAP(Progressive Goal attainment Program) for chronic pain management, fibromyalgia and return to work plan
While not treating his patients, Shan enjoys golfing ,biking, and spending quality time with friends and family.